Hello Friends, 
And so Halloween is is upon us! The streets will soon be filled with fairies, princesses, super heroes, cartoon characters, ghouls & ghosts of all ages! Oooh! Spooky exciting! Every year, we come up with a family strategy to achieve the goal of 'colossal candy collection'! Every year it's a different one and somehow, we always manage to collect just about the same amount of candy. Or as we've fondly named it "our annual supply of guaranteed cavities"!! Whatever your tradition or family strategy is, have a Spooktacular Halloween! 
Diwali, or Deepavali as its known in the south, is also around the corner. My favorite festival growing up in India- the Festival of Lights! The Triumph of Good over Evil! I sincerely wish each and every one of you a very happy, festive and prosperous Diwali!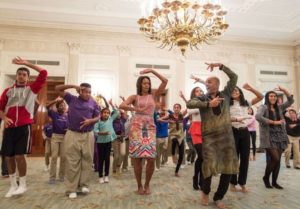 I leave you with a wonderful picture of the First Lady celebrating Diwali in the White House. 
Until next issue…
Warm regards,
Anu Kurian