Welcome to the September edition of the COMA newsletter. A week after the COMA grand Onam celebrations, I am still feeling a sense of excitement and exhilaration. It was an absolute success, and a testament to the meticulous planning by the COMA Executive Committee and the enthusiasm of the event volunteers. The celebrations embodied the true spirit of Onam – bringing people together to celebrate traditions and camaraderie.
The athapookkalams were a sight to behold, and transformed the venue into a visual delight. Members adorned in traditional attire like kasavu sarees and mundu enhanced the visual spectacle of the celebrations. The sadhya was a culinary treat with an array of authentic dishes including delectable payasams and boli, all served in fresh banana leaves.
Our chief guest Prof. Gopinath Muthukad truly shone as a beacon of altruism and selflessness. His ability to rally people together for his cause is extraordinary, and his unwavering commitment to the cause of differently abled children in Kerala is an inspiration to all of us.
The chenda melam team from Detroit drummed up a storm and kept us on the edge of our seats. The performance was nothing short of extraordinary and left us all in awe and deeply proud of our rich Malayalee cultural heritage. The event's entertainment selection was a blend of traditional and contemporary music and dance performances, ensuring everyone had an enjoyable experience. The MC team did a great job ensuring the event ran smoothly, and most importantly keeping the audience fully engaged.
The Onam event was a roaring success encapsulating the spirit and tradition of Onam, and creating an opportunity for charitable giving, raising an incredible amount for a very worthy cause. Thank you COMA EC 2023 for the dedication and passion that made this Onam an unforgettable celebration for all of us.
COMA officials handing over the first check to Prof. Muthukad.
ഓർമ്മിക്കാൻ ഒരു അമേരിക്കൻ ഓണം – Suprabha Arimbassery
(Suprabha hails from Valayanchirangara, Ernakulam. She is currently in Columbus, Ohio visiting her daughter Anjana Nair and family.)
എക്കാലത്തെയും നല്ല ഓർമ്മയായി മനസ്സിൽ സൂക്ഷിക്കാൻ ഒരോണവും കൂടി. നാട്ടിലെ ഓണപ്പരിപാടികൾ നഷ്ടമായെന്നോർത്ത് അമേരിക്കയിലെത്തിയ ഞങ്ങൾക്ക് ഇവിടുത്തെ ഓണാഘോഷങ്ങളിൽ പങ്കെടുക്കുവാൻ ഭാഗ്യമുണ്ടായി. വളരെ സന്തോഷകരമായ കാര്യം തന്നെ. ആഘോഷപരിപാടികൾ കാണുവാനായി ഒരു സ്കൂളിൻടെ ഓഡിറ്റോറിയത്തിൽ എത്തിയപ്പോൾ കേരളത്തിലെ ഒരു ആഘോഷത്തിലെത്തിയ പ്രതീതി. എല്ലായിടത്തും മലയാളത്തനിമയാർന്ന വേഷവിധാനങ്ങളും സംഭാഷണ ശകലങ്ങളും, പരിചയപ്പെടലുകളും പരിചയപ്പെടുത്തലുകളുമായി സ്നേഹബന്ധങ്ങൾ പരിപോഷിപ്പിക്കുന്ന നമ്മുടെ കൂട്ടുകാർ. അല്പസ്വല്പം പരിചയപ്പെടലുകൾക്കു ശേഷം കണ്ട പൂക്കളം വർണവിസ്മയം തീർത്തു. പ്രകൃതിദത്തമായ പൂക്കളാൽ അണിയിച്ചൊരുക്കിയ രണ്ട് വലിയ പൂക്കളങ്ങൾ വളരെ മനോഹരം.
അതു കഴിഞ്ഞ് ഒന്നാന്തരം ഓണസദ്യ. കേരളീയ സമ്പ്രദായത്തിൽ വാഴയിലയിൽ പപ്പടം, പഴം, പായസം ഇവ കൂട്ടി ഓണസദ്യ കഴിച്ച ശേഷം ഓഡിറ്റോറിയത്തിനകത്തേയ്ക്കു കയറിയപ്പോൾ കണ്ടത് – ഉത്സവപ്പറമ്പിലാണോ എന്ന് തോന്നുമാറ് ഒരാന. നെറ്റിപ്പട്ടം കെട്ടി, കോലം വച്ച് – വളരെ നന്നായിരുന്നു ആ കാഴ്ച. തുടർന്ന് ചെണ്ടമേളത്തിന്റെയും പുലികളിയുടെയും അകമ്പടിയോടെ മാവേലിത്തമ്പുരാൻടെ എഴുന്നള്ളത്ത്. മാവേലിത്തമ്പുരാൻടെ വരവും എതിരേല്പ്പും താളാത്മകമായി കൊട്ടിക്കയറിയ ചെണ്ടമേളവും സദസ്സിനെ ഗൃഹാതുരത്വത്തിന്റെ തലത്തിലേക്കുയർത്തി.
വിശിഷ്ടാതിഥിയായെത്തിയ ശ്രീ ഗോപിനാഥ് മുതുകാടിനൻടെ ഉത്‌ഘാടനപ്രസംഗം ഗതകാല സ്മരണകളെ ഉണർത്തുന്ന ഒന്നായിരുന്നു. തുടർന്ന്‌, കലാപരിപാടികളുടെ ഒരു വേലിയേറ്റം തന്നെയായിരുന്നു. ഓണപ്പാട്ടും, തിരുവാതിരകളിയും, കൊച്ചുകുരുന്നുകളുടെ ഫാഷൻ ഷോയും, ക്ലാസിക്കൽ, സിനിമാറ്റിക് ഡാൻസ്, മ്യൂസിക് ബാൻഡ് ഫ്യൂഷൻ, കവിതാലാപനം തുടങ്ങിയവ കൊണ്ട് കുറേ സമയം വേറൊരു ലോകത്ത് എല്ലാം മറന്നിരുന്നുപോയി. ഓണോത്സവത്തെ ശ്ലാഖിച്ചുകൊണ്ടുള്ള ഒഹായോ സ്റ്റേറ്റ് സെക്രട്ടറിയുടെ സന്ദേശം കേട്ടപ്പോൾ വളരെ സന്തോഷം തോന്നി.
ഇത്ര ഭംഗിയായി ഇതവതരിപ്പിക്കാൻ ചുക്കാൻ പിടിച്ച COMA ഭാരവാഹികൾക്കും, അർപ്പണബോധത്തോടെ ചിട്ടയായ പരിശീലനവും, പരിശീലിപ്പിക്കലും നടത്തിയ അംഗങ്ങൾക്കും കുട്ടികൾക്കും, എല്ലാത്തിനും എല്ലാ പിന്തുണയുമായി നിൽക്കുന്ന എല്ലാ കുടുംബാംഗങ്ങൾക്കും എത്ര നന്ദി പറഞ്ഞാലും മതിയാകില്ല. കൂട്ടായ പ്രവർത്തനത്തിൻടെ പ്രതിഫലനമാണ് ഇത്രയും നല്ലൊരു ദൃശ്യ ശ്രാവ്യ വിസ്മയ കാഴ്ച. ഇതാസ്വദിക്കാൻ അവസരം ലഭിച്ചതിന് വളരെ അധികം നന്ദി, സന്തോഷം.
My trek to the Annapurna Base Camp – Deepa Jayabalan Menon
(Deepa Menon among her friends and family is best known for someone who is always living on the edge, loves travel, adventure sports, trekking, and diving (underwater and sky). On a sunny nice day she can be found hiking, and is always working on her next bucket list item.)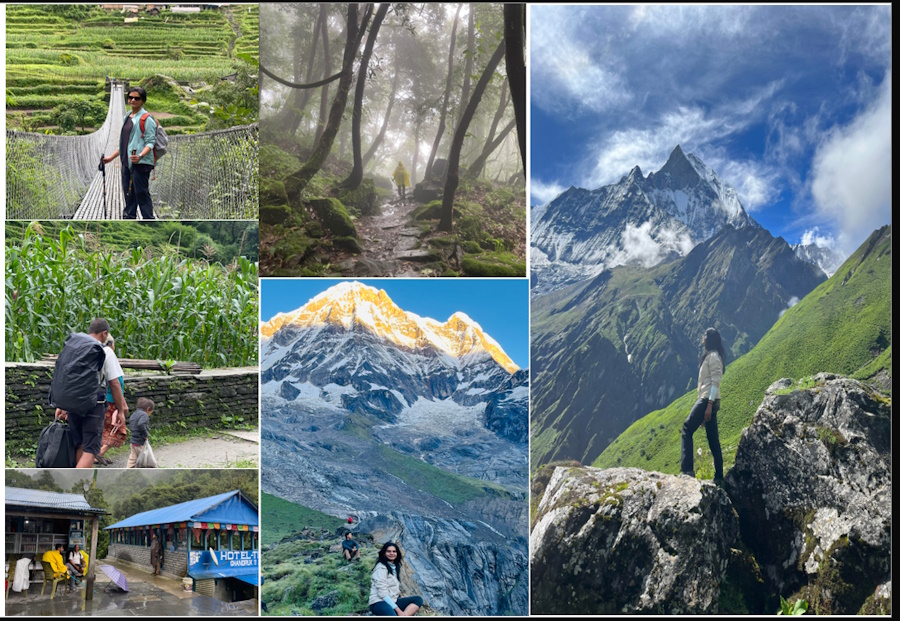 Trekking to Annapurna Base Camp… it was indeed one of the beautiful decisions of my life.
I leave a part of myself to the Himalayas every time I visit her. Himalayan ranges are my all time high; it gives a unique energy to reach and to be around her in spite of all the difficulties, tough terrains, and multiple days of walking.
It was an amazing experience to walk through the distinct landscape full of rich mountains, terraced fields, peculiar Gurung and Thakali villages, and the diverse variety of flora and fauna. The trail goes with gradual and steep ascents and descents alongside terraced rice paddies, lush rhododendron forests, and high altitude landscapes.
Nearly all of the villages to Annapurna Base Camp are the ethnic communities of Gurung and Thakali. We were able to find a few tea houses spread through the villages. These tea houses are the go to places to discuss and exchange notes with local villagers and tourists from other countries. Interacting with the staff, guides, and porters on the trail gave us a glimpse into their way of life and above all enjoy the traditional Nepalese style local dishes and tea.
As we were gradually moving towards the base camp through the villages, the vegetation shifted from tropical forests to alpine terrain with grasslands on rocky mountains. It was monsoon season so the sky was never clear and it rained daily. I would call it a monsoon and waterfall trek. I had multiple leeches biting me and we were always drenched in rain.
The last stretch to the Annapurna Base Camp was a walk on moraines. The evening we reached Machapuchare (base camp), the sky was not clear and we couldn't see the mountain range, and we were disappointed. The locals said that this time of the year the sky is never clear and we may not be able to see anything.
And then the miracle happened. At 3:30 AM the next day, we woke up looking at the clear sky, visible galaxies, and the vast Annapurna mountain ranges. No words could do justice to her serenity. She is majestic, magnificent, yet looks calm and beautiful. We were surrounded by the various peaks of Annapurna as well as other mountains like Gandharvachuli and Machapuchhre.
The knee pain, leech bites (blood loss), getting drenched, lack of sleep, high altitude sickness… everything just magically disappeared. The journey might have been strenuous and silent but in the end, I always have a beautiful story to narrate. 🙂
Onam Meals-on-Wheels Marathon
On Sep 3rd, Sunday, COMA coordinated a Meals on Wheels marathon by delivering 5 routes in tandem, including 16 volunteers, both adults and youth. This is the 9th year since COMA started doing Meals on Wheels as a regular community activity, and given that this year's Onam was primarily a fundraiser for Prof. Gopinath Muthukad's charitable causes, it was proposed to kick off the Onam celebrations by doing a Meals on Wheels marathon. The invitations were sent out with very little notice but all 5 route slots were filled up within an hour of the announcement. Thank you to the volunteers who stepped up so very quickly.
Route Volunteers
Smitha Sasindran, Sudeepa Pramod, Ramya Janaki, Ameya Pramod
Pramod Theckile Madathil, Roopesh Sathyan, Arnav Roopesh, Avnita Pramod
Nish Nishant, Pradeesh Puthiyattil, Shibu Nair
Smitha Nishant, Deepa Jayabalan Menon, Yogalakshmi Venugopal
Arun Davis, Abel Davis, Nikhil Nair
Check out this short 2-minute video for a slideshow of photos from past route deliveries as well as brief interview clips with some of our youth volunteers from the marathon.
Onam 2023 Media Links