We are into Spring here in Midwest,Season changes always brings in freshness and energy into our lives.Let's start of this spring newsletter with a review of recently conducted badminton tournament.
This year COMA ventured into organizing a badminton tournament for the first time and with out any doubt this event was a great success.For all the badminton enthusiasts in the region the event was an opportunity to enjoy competitive games and to up their racket skills.This event saw an active participation of 112 players from central Ohio region.There were 56 teams which included 32 men's,8 women's and 16 mixed doubles team.
Men's Doubles

Winners :Dilin Joy & Anoop Joseph
Runners Up: Padam Rai & Purna Rai

Women's Doubles

Winners:Christina Lin & Easter Chen
Runner's Up: Surabhi Patil & Srijana Chhethri

Mixed Doubles

Winners: Cindi Wu & Dongkan Hu
Runners Up: Chaithanya Reddy & Aswini Murthy
Youth Corner
It is this time of the year many of us look forward for a nice get away to a serene location with family and friends ,for all the travel buffs out there our youth member Arya Janardhanan has written a beautiful travelogue from her trip to Mexico
My trip to Mexico!

Arya Janardhanan (12 years)
I love to travel around the world to taste new food and see many historical sites. I have been to many different cities, states, and countries. I've always wanted to see more countries and when my dad told me that we were going to Cancun, Mexico, I exploded with excitement because we've never been there before.
I still remember when I first got to the hotel, an employee gave me some lemonade to cool me down from the sun's burning rays. I quickly devoured it all joyfully. It was a huge hotel with a lot of activities to do – for example, golfing, swimming, painting, basketball, and much more. My family and I got to go swimming in the pools and play golf. My sister and I even got to paint ceramics and keep it. The food they served was impeccable. They had a buffet serving breakfast, lunch, and dinner. They had a variety of food items like croissants, pancakes, quesadillas, bacon, egg, steak, and they even had desserts like pudding, jello, and ice cream!
I thought staying there at Mexico couldn't get any better – I was wrong! I got to see the ancient ruins of a civilization called the Mayans, and did I mention I love history. There were many structures at the site that had steps that looked like the steps you see right in front of your front door. The site wasn't crowded, but was still very hot there, I felt like I was going to melt! It was between 80 and 90 degrees Fahrenheit! It was cool seeing structures so old still standing. What was incredible was how the Mayans moved the heavy rocks and glued them together. The scenery was breathtaking. It felt like I was walking into the past and stepping into someone else world.
A few days after that, my family told me we were going in a submarine. When I was heading towards the submarine, I first had to get onto a boat, then the boast would take us to the submarine. It felt nice on the boat with the breeze on my face and looking at small plants rising out of the water. Once the boat was side by side with the submarine, I hopped in eagerly. When it started to descend into the water, I saw small statues covered by plants and other particles. In the middle of the ride, I saw how the sun glimmered against the sand and the rocks which made it very relaxing to watch underwater. The sand was in a pattern mode of wavy horizontal lines. There was a lot coral and seaweed standing on the sea floor slowly swaying with the water. Sometimes, there were little fish swimming past. I even got to see Dory! When the submarine was about to rise from the water, there was a little surprise for the people onboard. A mermaid came out of nowhere and swam past the submarine waving at us. Her tail was blue in color, and she had long and dark brown hair. After that, we went to the beach near our hotel to soak out feet in and to see the Gulf of Mexico. On the beach, I made sandcastles and left many footprints there. I love collecting seashells and rocks, so when my family and I were going to the beach, I collected as many rocks and seashells my hands could hold.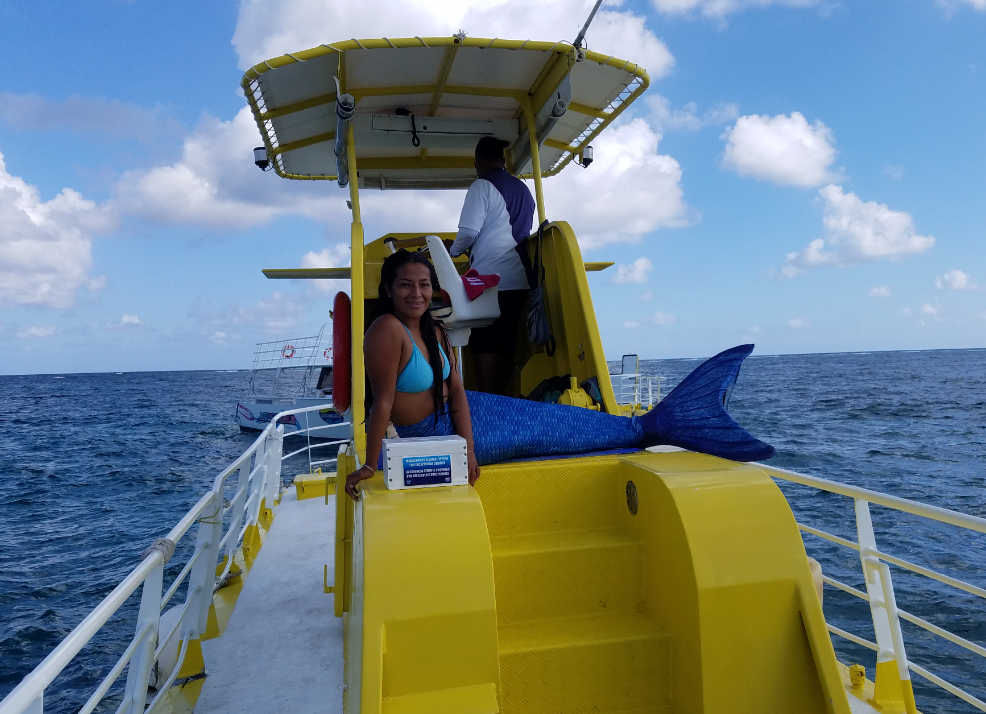 I saw the sunset at many different places. I remember once my family and I were going to see the sunset near a boat dock. We were running late, so we had to squeeze between people and run fast, so we wouldn't miss the sunset. We barely made it on time. With the sun setting, the sky turned an orange and red color and in the center was the sun just barely peeking out. I learned a lot of things staying in Mexico. One of them was some Spanish, so we had to communicate with our hands to show where we were going, or if we were going to eat. They still didn't understand us and spoke Spanish to us. My dad would go to an employee who knew English and would ask them how to say one word in Spanish.
I am going to miss Mexico, the hotel, and especially the temperature. We went to Mexico during December 2017, so in Columbus, it was about 20 degrees, while in Mexico it was 80 degrees. I took many photos and created many new memories. I will never forget my first trip to Mexico!
Upcoming COMA Events
Thuruppu Gulan – COMA presents Thuruppu Gulan – a games night for its members – includes 28 (Irupathiyettu), Rummy and Carrom. The event will be at Mirchi Columbus, Indian Bar & Grill, 195 E Campus View Blvd, Columbus, OH 43235 on Saturday, 27th April 4:00 PM to 11:00 PM. For details and registration, please visit http://www.comaohio.org/thuruppugulan
5K run/walk – Mark your calendar for COMA 5K run/walk to be conducted on Sunday, May 5th 2019 at 7:30 AM. (Location: Orange Township Trails at Glen Oak Park). Please join us for fun and to support a good cause, YWCA host a meal program. We will be introducing our Active coma initiative after the run. For details and registration
http://www.comaohio.org/5Krun
Community Corner
Meals On Wheels

04/14/2019 – Mathew John,Suju Mathew,Sudha Warrier
04/28/2019- Saira Nawaz,Manjula Nair,Arvind Nair
Achievements
Young Achievers in NSF – https://www.northsouth.org
Gauri Nanda daughter of Sudeesh Vasudevan and Lekshmy , won 1st place in Junior essay writing competition conducted by NSF at Ohio State University on April 6 th 2019.
Arya Janardhanan (left) and Anjali Janardhanan (right), daughter of Anuja and Ajayan Janardhanan, received the 1st and 3rd place respectively in the Vocabulary and Science competition conducted by the North South Foundation at The Ohio State University on April 6th, 2019. Based on overall ranking, they could represent Ohio at the National level competition to be held at the Massachusetts Institute of Technology in August.
Columbus Telangana Association Carrom Tournament –
Arun Chand was runner up in singles competition , Arun and Sajid Babu won runner's up in doubles. Currently Arun Chand is serving as an EC member for COMA.
If you would like to share any accomplishments or achievements please write to coma.officials@gmail.com