Ohio is often seen as a swing state for elections, and that tag is most accurate when it comes to temperatures in May. But pretty soon, we will be complaining about the heat! May is special as we celebrate Mother's Day – honoring the unparalleled bond of love we share with our mothers. Happy Mother's Day to all the moms in the community!
As we celebrate Memorial Day later this month, let us thank the brave men and women who have made the ultimate sacrifice for our freedom. I hope you all have a safe and happy Memorial Day weekend!
In addition to literary contributions, this edition features news of our graduating high school seniors. If anyone was missed, please share your information with us so we can include it in our June edition. Wishing all our seniors the very best as they embark on their new journey.
Wishing safe travels to those of you heading to your Kerala homes for summer vacation. I hope you enjoy time with family and friends and come back refreshed!
— Smitha Nishant
Sreejith Chandran's Random Ramblings
(One half of his brain has gone nomad and the other has gone in search of the first. Glorifying his random ramblings and packaging it is his main hobby! Otherwise sane and grounded.)
തച്ചുടച്ച അടിമത്വവും കൂട്ടിലടച്ച പ്രഭുത്വവും
കുറേ ദിവസമായി വയറ്റിന്നു പോകുന്നില്ല! ആകെ ഒരു പിരിമുറുക്കം. കേശവൻ വൈദ്യനെ കണ്ടപ്പോൾ കുഴപ്പമൊന്നുമില്ല, രാവിലെ എണീറ്റ് നടന്നാൽ മതി എന്ന് പറഞ്ഞു. പൊതുവെ എനിക്ക് രാവിലെ എണീക്കുന്നതു ഇഷ്ടമല്ല, എന്നാലും വേണ്ടില്ല ഇനി അതിന്റെ പേരിൽ നിലവറയുടെ വാതിൽ തുറക്കാതിരിക്കണ്ട എന്ന് കരുതി അടുത്ത ദിവസം തന്നെ നടക്കാൻ ഇറങ്ങി. ഏകദേശം ബേക്കറി എത്തി കാണും, ദേ വരുന്നു പാലസിലെ കാർ. ദിസ് ഈസ് എ കാർ അല്ല, വർഗ്ഗ ശത്രുവിന്റെ കാർ!
രക്തം തിളച്ചു മറിഞ്ഞു, ചങ്കിലെ ചൈനയും കൂവി. ചായ്! അല്ലേൽ വേണ്ട. എന്തിലേയോ ക്യൂബയും ഒക്കെ മനസ്സിൽ തെളിഞ്ഞു. ഒന്നും നോക്കിയില്ല, മുണ്ടു പൊക്കി കാണിച്ചു! രാജാവും രാജ ഭക്തിയുമൊക്കെ അങ്ങ് പണ്ട്, മനസ്സിൽ നീട്ടി രണ്ടു ഇന്ക്വിലാബും വിളിച്ചു.
എന്നാൽ ഇതിന്റെ കലിപ്പ് തീർക്കാൻ യൂണിവേഴ്‌സിറ്റിക്ക് അടുത്തുള്ള കുമാരന്റെ തട്ടുകടയിൽ നിന്ന് ഒരു കാലി ചായ കുടിക്കാം എന്ന് വച്ചു. ഒരു വിത്തൗട്ട്! കുമാരൻ വിത്തൗട്ട് ചായയുമായി വന്നു. അവന്റെ കയ്യിൽ ഒരു പുതിയ വാച്ച്! ങേ, ഇവനും ബൂർഷ്വ ആയോ ഫഹവാനേ! (അല്ല, പുല്ലു നമുക്ക് ഫഹവാനും കോപ്പും ഒന്നും ഇല്ലല്ലോ.) എന്തായാലും തിരുത്താൻ നിന്നില്ല, നീ ബൂർഷ്വാസിയുടെ കൊണങ്ങൾ ഒന്നും എന്നോട് കാണിക്കല്ലു കേട്ടോടാ, നിന്റെ കട ഞാൻ പൂട്ടിക്കും എന്ന് ഒരു കാച്ചു കാച്ചീട്ടു അവിടുന്ന് ഇറങ്ങി.
ഇറക്കം ഇറങ്ങാൻ കുറച്ചു പ്രയാസം ആയിരുന്നു. അധ്വാനിക്കുന്ന ജനവിഭാഗത്തിന് വേണ്ടി ഘോരഘോരം പ്രസംഗിക്കുമെങ്കിലും, സെക്രെട്ടറിയേറ്റ് എ/സി ആക്കിയതിനാൽ ഈ ഇടയായിട്ടു വിയർപ്പിന്റെ അസ്ക്യത ഉണ്ടേ. പത്രം വായിക്കാനായി എന്നാൽ പിന്നെ PKJ സെന്ററിൽ കയറാം. പടി കയറി ചെന്നപ്പോൾ അകത്തു നിന്നൊരു ആക്രോശം, "കടക്കു പുറത്തു"!! എന്നോട് തന്നെയാണോ, അതെ എന്നോട് തന്നെ. "ഓ, മ്പറാ!" എന്ന് പറഞ്ഞു ഇറങ്ങിയോടി . ഓടി എന്ന് വെച്ചാൽ ഓടി തള്ളി, ആ ശബ്ദം എനിക്കത്രയും ഭയം ആണ്!
വീടെത്തി മിണ്ടാതെ പോയി കുളിച്ചു വന്നപ്പോളേക്കും ലേറ്റ് ആയി. ഇന്ന് ബൈക്ക് വേണ്ട, നല്ല ചൂടുണ്ട്, കാർ തന്നെ എടുത്തേക്കാം, ഒരു കൂട്ടം വിദ്യാർത്ഥികളെ അഭിസംബോധന ചെയ്യേണ്ടതായിട്ടുണ്ട്! "തച്ചുടച്ച അടിമത്വവും കൂട്ടിലടച്ച പ്രഭുത്വവും" !
My Char Dham Trip (October 2 – 16, 2022) – Venu Nair
(Venugopalan (Venu) Nair, a native of Kottarakara, Kerala migrated to the USA in 1975. He is currently retired (from American Electric Power in 2009), and lives in Westerville, Ohio with his wife Komalam. He has two sons and four grand children. Both sons along with their families live in Indianapolis.)
We had an unforgettable trip to the Himalaya region in India. The main purpose was to visit four holy places called Char Dham in the Himalayas namely Yamunotri, Gangotri, Kedarnath and Badrinath. These are four temples, all them at more than 10,000 feet above sea level.
The Kedarnath temple is a Siva temple, one of the twelve Jyothirlinga temples. It is situated at 11,700 feet above sea level. The Badrinath temple is a Vishnu temple located in the Himalayas at 10,700 feet above sea level. The Gangotri temple is located at the origin of river Ganga. This temple is at 11,200 feet from sea level. This is where King Bhageeratha did penance to bring Ganga from heaven to earth. The Yamunotri temple is located at the beginning of the Yamuna river, and is 10,800 feet above sea level. Bharatiya (Sanathana) dharma considers all rivers as female goddesses and are worshipped as such. This is part of worshipping all nature which nourishes all of us as gods and goddesses.
The trip was basically a spiritual journey. We were six people from the USA. In addition to me and my wife, Komalam, there was a couple from Columbus (Mohan and Elizabeth Das), my sister and brother-in-law (Viswanath and Indira Kurup) from Phoenix, AZ, and Komalam's brother, Ravi Nair from India. The members are shown in this picture taken near the Gangotri temple. At Haridwar, we joined a tour group from Kerala. This group has been doing this annual tour every year; in fact, this was their 48th tour, and 50th year (they didn't have this tour during COVID years). This was their first tour after COVID. This was my second tour with them, my first was in 2003. That year I was alone; Komalam stayed back in the US since she didn't get vacation. That tour took 35 days since the group visited other places such as Delhi and Mathura. In fact this tour was basically for Komalam. It was her desire to go visit the Kedarnath temple. She had already visited the 11 of the 12 Jyothirlinga (Siva) temples except Kedarnath. (The twelve Jyothirlinga temples, by the way, are: Somnath, Nageshwar, Bhimashankar, Trimbakeshwar, Grishneshwar, Vaidyanath, Mahakaleshwar, Omkareshwar, Kashi Vishwanath, Kedarnath, Rameswaram and Mallikarjuna. These temples are spread all over India.)
We joined the group from Kerala at Haridwar, which is the starting point of the tour. River Ganga enters the plains from Himalayas here and it is considered a holy place. All Chardham yatras start from Haridwar. There are many ashrams and temples here. Every evening Ganga Arati is done at Har Ki Pauri, a place in the banks of the Ganga river. This is an amazing spectacle to be really witnessed. There are mentions of Haridwar in old scriptures including Mahabharata and Vayu Purana. The map below shows the relative location of this township. The group from Kerala had travelled on train from Kochuveli near Thiruvananthapuram, and took three days to reach Haridwar. The six of us, from the US flew to Delhi from Kochi, and hired a minivan to reach Haridwar by the evening of October 2. The group was more than a 100, including some kitchen staff to prepare delicious Malayali food for all of us. The next day we visited a few temples and ashrams. In the evening, all the ladies in the group did Puja at Kankhal Neeladhara, on the shores of Ganga. We started the Char Dham tour on October 4 early morning in four buses.
COMA Badminton Tournament Report – Anoop Nair
(Anoop Nair is a Software Engineer living in Delaware Ohio. He loves to scribble, paint, and travel when he is away from coding. Following cricket and experimenting with his culinary skills are other pastimes.)
Badminton is a sport that is enjoyed all around the world by millions of people of a wide range of ages. It is a sport that explores speed changes, reaction time demands, strength and endurance challenges, and of course heart-pumping fun. The sport is much popular among our Malayalee community, and you can always find a group of enthusiastic folks smashing and rallying at the Lazelle Woods community center on weekends with birdies flying and racquets sounding whoosh!!
COMA organized an open Badminton tournament on April 29th at Supreme Sports and Events, Plain City. I did not participate as a player but visited to watch some games and do some volunteering. It was a wonderful experience and the EC team did an outstanding job in organizing the event which was well received even by people outside of the Indian community. The event had 3 categories – Men's doubles, Women's doubles, and Mixed doubles. 56 teams participated in different categories with Men's doubles alone seeing 32 teams competing for the championship.
COMA Badminton 2023 Men's Doubles Div-1 Champions (Tianchen Li & Delong Liu) collecting trophies from Derek Lee
The event saw an overwhelming response not only from Indian groups in Columbus and around, but also other South Asian communities in central Ohio. I was also amazed to see young kids paired up with their parents playing the sport with so much fervor and excitement.
We saw a dominance of Southeast Asians here, but our COMA folks too demonstrated class and competence. Many of our folks moved into pre-quarters and quarters, displaying sheer agility and dexterity. I want to give a special mention to Anoop Joseph and Dilin Joy who valiantly fought a semifinal bout in Division 1 against Tianchen Li and Delong Liu. Their game demonstrated some real professional talent even though they went down fighting the Chinese pair, but the smashes, drops, deceptions, and returns were proficient. Tianchen and Delong eventually won the championship.
COMA Badminton 2023 Mixed Doubles Champions (Yunan Zhu & Tianchen Li) collecting trophies from Anoop Joseph
Division 2 of the Men's doubles saw an interesting family duel between two generations of the same family with their roots in Nepal. The senior generation involving Raj Yogi and Son Tamang triumphed over the youngsters Arpan Tamang and Kshitiz Lepez. The Women's event and Mixed doubles also saw some good participation.
Overall, the event was a grand success for COMA, and the EC team did meticulous planning to finish the event in a timely fashion and this was well appreciated by the participants. Lots of volunteers turned up for refereeing, for scoring and coordination, food management, and time keeping, showing our strength and spirit as always. I enjoyed this event, and as summer is knocking at our doorsteps, I am looking forward to seeing many more sporting events by COMA.
COMA Summer Party Drinks with Nish
The 2nd installment in COMA's Cook Along series was done on May 5th. It featured cocktails and mocktails prepared live by Nish Nishant who was accompanied by Arun Davis. Several COMA patrons joined the online session and made those drinks along with Nish and Arun. The event was shot at COMA President Shibu Nair's residence. Unfortunately, due to a technical glitch, the event could not be recorded.
Youth Achievements
Anjali Janardhanan won the first prize in the 2023 Regional Vocabulary Bee conducted by North South Foundation. She is a 7th grader at Karrer Middle School, Dublin. She's the daughter of Anuja and Ajayan Janardhanan (former COMA President). Congratulations Anjali!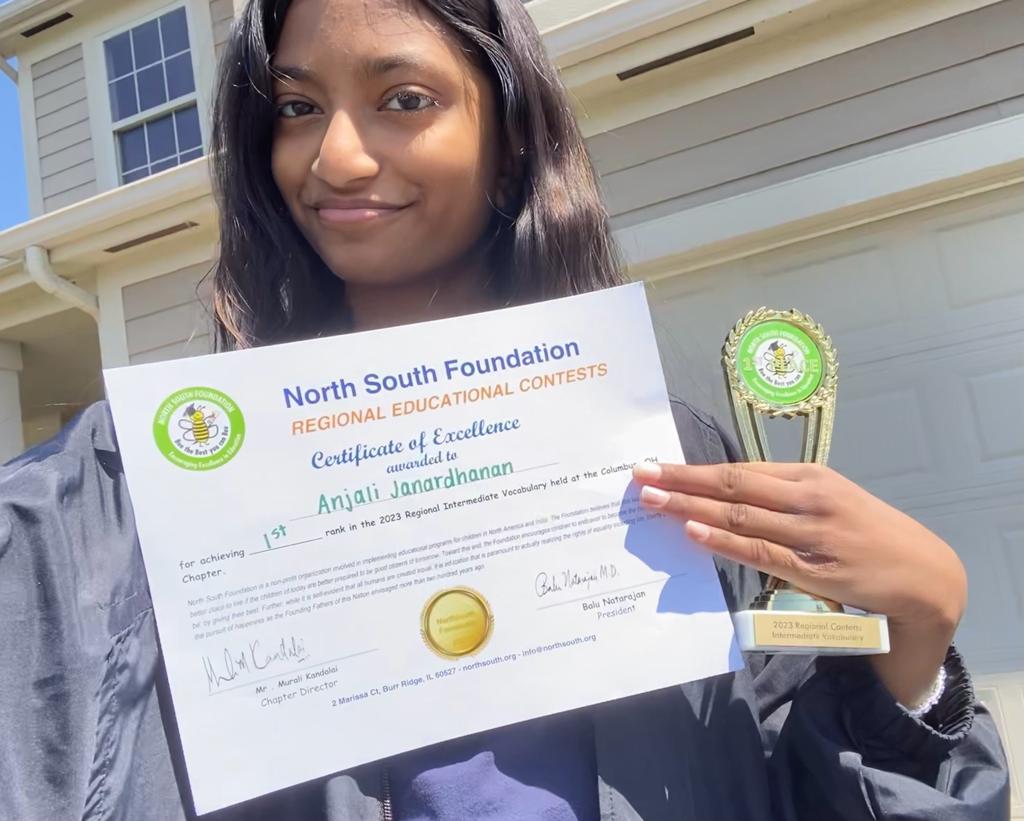 Nandana Presanth won 2nd place in the Women's Saber Fencing Competition, held at Ohio High School. She is a 9th grader at Dublin Coffman High School and the daughter of former COMA President Presanth Krishnan.
High School Graduations
Melissa Thomas
Melissa Thomas (Lisa) graduated Summa Cum Laude from Olentangy Liberty High School. Lisa will be attending The Ohio State University in the fall and majoring in Health Science on a Pre-Med Track. Lisa is a recipient of the Morrill Distinction Scholarship from The Ohio State University. She will also be a part of the Health Sciences Scholars Program. In High School she was actively involved in many extracurricular activities. She was president of the Student Council, Psychology Club, Help for Hope Club, her school's chapter of BuckeyeThon, and Class Cabinet. She has also volunteered at Marysville Memorial Hospital over the years and spreads her smile at the Powell Story Point retirement home. She is looking forward to the journey ahead of her and wishes for blessings from the COMA community.
Additional Achievements
Principal's Leadership Award
AP Scholar award
Honors Diploma
Global Scholars Diploma
International DECA Qualifier
Lisa is the daughter of Julie and Manoj Thomas (both of whom are former COMA trustees / EC team members)
Karun Gopal
Karun Gopal, son of Arati and Vikas Gopal, is graduating summa cum laude from Olentangy High School. He will be attending the Ohio State University and plans to major in Computer Science and Engineering. Karun is a National Merit Commended Scholar, a three-time State qualifier in Lincoln Douglas and Public Forum debate, a school chamber orchestra violinist, and a member of the National Honor Society. In addition, he volunteers as an assistant teacher in the Bharatiya Hindu Temple Gurukul.
Joshua Abraham
Joshua Abraham is graduating on May 21st from Olentangy High School. He's going to the University of Cincinnati, Lindner School of Business majoring in Finance. He's the son of Nancy and former COMA EC team member, Joseph Abraham.
Shraddha Krishnan
Shraddha is graduating from Dublin Coffman High School. She is planning on attending Indiana University's Kelley School Of Business, majoring in Marketing and International Business and minoring in Data Science. She is a valedictorian, member of the National Honors Society, recipient of the Presidential Award for Educational Excellence, National Merit commended scholar, recipient of the Celebration of Excellence award, and the recipient of a Dublin City Schools local scholarship. She received a Dean's scholarship at Indiana University, and is excited to continue her studies, both abroad and in Bloomington. Go Hoosiers!
Shraddha is the daughter of Meera Vijayalakshmi and Hari Krishnan (former Trustee and President of COMA).