Hello Friends, 
And so Halloween is is upon us! The streets will soon be filled with fairies, princesses, super heroes, cartoon characters, ghouls & ghosts of all ages! Oooh! Spooky exciting! Every year, we come up with a family strategy to achieve the goal of 'colossal candy collection'! Every year it's a different one and somehow, we always manage to collect just about the same amount of candy. Or as we've fondly named it "our annual supply of guaranteed cavities"!! Whatever your tradition or family strategy is, have a Spooktacular Halloween! 
Diwali, or Deepavali as its known in the south, is also around the corner. My favorite festival growing up in India- the Festival of Lights! The Triumph of Good over Evil! I sincerely wish each and every one of you a very happy, festive and prosperous Diwali!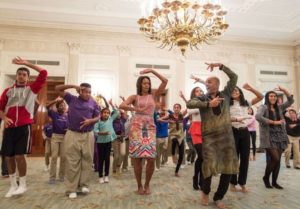 I leave you with a wonderful picture of the First Lady celebrating Diwali in the White House. 
Until next issue…
Warm regards,
Anu Kurian
COMA Christmas 2016
COMA is pleased to announce 2016 Christmas and Awards Night! 
This year's event will feature holiday/festive decorations along with carol singing, cultural events like Margam Kalli and catered food from Crowne Plaza. We will also be featuring an awards night to recognize the best contributions to the newsletter, best volunteer and many more. Stay tuned for more details and be part of an exciting event on December 3rd.
COMA Charity Events
YWCA Host a Meal
COMA will be supporting yet another YWCA Host A Meal charity event to be held on October 29th at breakfast time. Interested volunteers please contact coma.officials@gmail.com
LIGHTS by TACO
On October 15th, 2016, COMA participated in LIGHTS (Local Indian Groups Help Together for a Better Society) organized by TACO. A fun filled event to donate the money raised from this event to the poor and needy communities in and around Columbus, OH. LIGHTS brought together Indian organizations in Central Ohio for a friendly cricket match and so they can get to know each other so we can work together on common issues. COMA had a team of volunteers who represented us in the cricket tournament.
The COMA team reached the semi finals with an overall ranking of third in the tournament. Team members were Dhanush, Subin, Ravi, Jose, Aslam, Sachin, Rohit and Ajoy.
SPOTLIGHT

 
Walking Through the Storm- By Sheetal Kongattil
Sheetal Kongattil is a long standing and active member of COMA. Her work recently got published on the website womenforone.com. We are fortunate to have her share her touching , yet inspirational journey, toward achieving her first half marathon.
Pain… Anxious … Sick… Sad… Angry…
Pain… Anxious … Sick… Sad… Angry…
Pain… Anxious … Sick… Sad… Angry…
This cycle pretty much summed up how I was feeling that particular day and for most of 2012. It is bizarre how the mind can feel a multitude of negative emotions and yet be fully functional. Kelly Clarkson's song "What Doesn't Kill You Makes You Stronger" was playing on the radio, as I wondered why I was getting weaker by the day.
My life had just taken a U- turn. Everything was topsy-turvy. I felt completely broken and shattered. My health was going downhill and my eyes were burning constantly, like I had already cried a lifetime's worth of tears.
People I considered friends started ignoring me. Perhaps they thought I would depend on them during these tough times— which I never would have! An occasional phone call to see how I was holding up would have been nice. New acquaintances became like family trying to encourage me to come out of my shell. They brought back the music lover in me. My parents, granny, aunt, close family members, best friends, and few colleagues became my strong emotional support system.
Life is strange—it puts you through trials and tribulations to teach you valuable and important lessons. When I was little, my granny used to say, "Don't count the number of friends by the ones who laugh with you when you are happy; make room for those who will wipe your tears when you are sad." I never really grasped the meaning of these wise words until reality struck me.
Days passed, and though I poured my entire energy into my work, I felt I needed something apart from my career to look forward to that would challenge me and help me prove my worth to myself! I racked my brains and pondered my options. I thought about how passionate M (my manager then) was about running. She would tell us about the races that she took part in and upon request showed me some of the medals that she had won. Suddenly I decided I would do a half marathon. I discussed this with M, and she encouraged me. Her next race was the Nationwide Children's Hospital Columbus Half Marathon. I Googled the race and realized that the fundraising was for a good cause, so I decided this was going to be the one. M told me the best way to train was to join a group and suggested MIT, or Marathoner In Training.
After a long time, I was excited and filled with positive thoughts. I was all set to do my first half marathon! Wait, I spoke too soon…Didn't I have to get up from the couch, pick my feet up, and actually run?
The following Saturday I went to a trail near my apartment and started running. It wasn't that bad. I checked my watch—Whaaat?? Just 30 seconds and I was already breathless…I walked for 10 minutes and I was done!
I could hear voices inside my head taunting me. "You and running?!? Seriously, you have never walked even 200 meters in your life, so how are you ever going to walk 13.1 miles? It's not too late to QUIT!!!"
Dejected, I called my parents. They just said, "We are sure you can do it, so go for it!" Their belief in me, their encouragement and moral support, boosted my confidence and I was back in the game!
In the months that followed, due to the personal turmoil that I was going through, I couldn't focus on training and had walked only up to 6.5 miles in one go. It was October already and I seriously considered backing out, but there was a tiny fire inside me that was still burning despite the harsh winds…
Race day was finally here. I got up feeling nervous and second-guessed myself. After reaching my designated corral, I was amazed to see the sheer number of participants…the energy…the crowd…the music…
Everything seemed so surreal! I started feeling the adrenaline rush through me, and then there was no looking back…
Every mile there was a sick child cheering us, kids who had undergone major surgeries. I could feel a lump in my throat and emotions rushing through me as I gave one of the kids a high five and he smiled sweetly in return. Then it hit me that people go through unfortunate situations and bad phases; you can pray for God's grace and blessings, but sometimes, for no reason, bad things happen to good people. Life is so unpredictable, and anything can happen to anyone at any time! To understand the pain, you have to experience it first hand.
The first five miles were tolerable, but there were still miles and miles to go. I kept repeating to myself, "Do not quit." By the ninth mile I was so exhausted, my legs were so sore, my feet were so numb, and I felt like I couldn't do it anymore. I started to break down, but I couldn't accept that I had come this far to fail. Having no PR (personal record) in mind, my goal was to reach the finish line. With every step that I took, I tried to stamp out all the negative energy, emotions, and everything that had happened to me that year! Before I knew it, I could hear loud music and see a big crowd wave—and then I felt overwhelmed, overjoyed, and truly victorious when I received the medal. I couldn't believe it! I actually DID IT!!!
That night, in retrospect, I realized that though this race was a grueling test of my physical and mental endurance, it was the best gift that I could give myself. As a result of the struggle, a stronger new ME was born.
Welcome, Sheetal 2.0!
YOUTH ZONE

 
My Trip to Florida- By Keziah Uthup (7th Grade)
Summer Trips! I just love those trips to different places and getting to enjoy them. The whole trip was planned for 10 days, visiting Disney World and Universal Studios. My sisters and I were excited about the whole trip. Fairytales, rides and a day at the beach! We couldn't contain our excitement. Our trip started on the Thursday evening before July 4th. We rested for the night in Tennessee and reached our hotel in Orlando, on Friday evening. Oh boy!, talk about road construction and traffic! Orange barrels everywhere in Georgia. The excitement of having so much fun at Disney overshadowed the frustration of slow moving traffic. We were so exhausted. We checked into the hotel and slept away.
On Saturday morning, we were up and ready to go visit Magic Kingdom. It was only about a 5 to 10 minute drive from our hotel to the big gates, to enter the magical world. It felt so good to be back at the place where dreams would come true, after 3 years.
We walked down the Main Street to Cinderella's Castle and there was a performance going on with some of the Disney characters on the stage. After that, we went to Adventureland and went on some of the rides such as "Aladdin's carpet ride", "Jungle Cruise", and "Family Robinson Tree House". We also got to meet Jasmine and Aladdin and took some pictures together. After all that, we went to Frontierland, had lunch, and went on "Splash Mountain" ride, a few times. It was so much fun! Then we went on "Thunder Mountain", it was also a fun moment. Time just flew by. It was already 9:00 pm when the parade was going around Magic Kingdom as well as fireworks at the castle. We stayed up past midnight and were joking that our van would be turned into a  pumpkin!
The next day was at Epcot. The "Spaceship Earth" was an interesting ride. It was a display of life in the future and how robots help us for home chores. Interesting! Then, we went to the "Fast Track" ride. We "designed" our car for the ride and "put it to the test" based on different categories like speed and fuel efficiency. It was learning experience. After that we went on an AMAZING ride called "Soarin'". It was like being on an open airplane ride flying over different places, just with a projector and movement of the seats dangling in the air. It was one of the most memorable experiences I had.
The next day was my birthday. Time to see a few more princesses at the ball. We went to the fire station where you could do a scavenger hunt around Magic Kingdom to stop villains through portholes. Then, we went to Tomorrowland and rode on a lot of rides throughout the day. At the end of the day we went back to "Splash Mountain" and "Thunder Mountain" and rode them about 8 times each. It was an absolute thrill.
The next day, sometime in the afternoon we went to go to Cocoa Beach and had a blast there. I got to swim out all the way to where the big waves crashed down on me, while the rest of my family was on the sand collecting shells and playing in the water. We spent the whole evening at the beach.
The following day was my sister's birthday. We got to celebrate it at Universal Studios. My sister and I got to go on the Hollywood Rip Ride Rockit. It was so much fun! Then we went on a Transformers ride and got to meet Bumblebee. Then after that we went to "Diagon Alley" in "The Wizarding World of Harry Potter". We got to see inside the "Gringotts Bank". We also got to ride "Harry Potter and the Escape from Gringotts" twice and it was really fun. The dragon on top of the bank spewed fire down at us from outside and we could feel the heat from the fire! We also went to Ollivanders™ and got a Harry Potter's magic wand.
The next morning, we bid adieu to the Sunshine State with magical memories of the trip!
NSF Nationals Experience- By Akash Girish
This August I had a great opportunity to attend the National Science Foundation national finals, which was held in the University of South Florida Tampa, FL. My first National Competition ever! I got this opportunity because I came second on the regionals in Ohio. There were 120 grade 1-3 kids participating from all over United States.
 I was waiting in the hot sun for the nationals to start. When it started, I had to do a test that I had 30 minutes to finish. Then I had a lightning round and we had 45 seconds for each question. Each test had 20 questions each. Then we went to the award ceremony at the auditorium. I did not get a 1-10 place trophy but I did get a participant trophy that spins when you touched a picture in it. 
Participating in the nationals was an amazing experience for me and I met several similar minded kids who like science. The best day ever!!!!
Thanks to my awesome mom and dad for guiding me to get there. I encourage all of you to try this out as it is a great experience. 
PACHAKAM
Butter Fish Pollichathu- By Molly Tomy
Ideally this dish is to be made with 'karimeen', but in the absence of it, I use 'butter fish' or 'pomfret' from the Asian store. 
Butter fish or pomfret- 2 nos
Wet Ingredients: 
Chopped Onions : ¼ kg, Chopped Ginger : a 1/4 inch piece, Chopped Garlic : 4 pods
Chopped Green chillies : 4
Dry ingredients:
Turmeric powder : ¼ tsp, Chilli powder : 1 ½ tbsp, freshly crushed Pepper powder : ½ tsp, Cumin powder: ½ tsp
 Vinegar: 2tbsp
Coconut milk: 1/2 cup
Tomatoes (finely chopped) : 1
Coconut oil: 4 tbsp
Curry Leaves (1 sprig)
Salt: to taste 
Directions 
Clean the fish well and drain the, pat dry and cut oblique incisions on it.

 

Dice the onions, ginger, garlic and green chillies into small pieces.

Make a fine paste of the Dry ingredients with little vinegar.

In a heavy bottom pan (uruli) pour some coconut oil and heat it.

Add the "Wet Ingredients" to the pan and saute it well.

When the "Wet Ingredients" are sautéed thoroughly, add the "Dry ingredients" and saute well on a low flame. Add the curry leaves. Take time at this step for the flavors to really develop.

 

Add the tomatoes and saute it till the raw smell goes, you can add a touch of coconut milk too for flavor and thickness.

 

Add the salt and the remaining vinegar and mix well.

Add fish into the gravy and saute it till the gravy thickens and the fish is cooked well.

Wrap each piece of fish, along with the masala gravy in a banana leaf. Tie it securely with banana fibers and roast it on outdoor grill or hot pan.
Serve delicious Butter Fish Pollichathu on piping hot steamed rice.